News
Key Dates for your Diary
Here you will find the full list of the key events taking place in school for the academic year 20/21. Please note some are subject to change depending on the current situation surrounding the pandemic. Please click on the link to access the full list of Key Dates for your Diary.
And the winner is ... The Burrow
Thanks to everyone who voted. It was a close call between The Drey and The Burrow but we have decided that our new classroom will be called the Burrow. Our local artist Stoneface is going to make us a beautiful stone sign to go outside. Children are already enjoying learning in it.
New Eco Classroom
We are really pleased that our beautiful eco classroom is finished. Thanks to all the parents and carers past and present who donated money, bought buns and cakes or attended our BBQ or Christmas fayre. Your money has enabled us to create this fabulous new teaching space. We are just waiting for the joiner to come and build us some cupboards and then we will be able to have a grand opening!
All we need now is a name! We are going to call it after an animal home to link with our whole school focus on nature. Please vote using the poll below. The deadline is next Friday.
Top of the Rocks - Peak Edge Times Tables Rock Stars Competition Results
Well done to everyone who took part in the Times tables Rock Stars Peak Edge Competition. We did incredibly well! Although we were last in total points, we were first in points per individual – hence compensating for our small size. Acorn class also came first in class average score whilst Ivy class came fourth in this category. We also had three children who came in the top ten pupils in the academy. Lexi came first with a whopping 13,081 points! In seventh came Thomas with 7,323 points. Rounding out the top ten was Gabriel coming in tenth with 6,157 points. Well done in particular to these individuals. Very proud of our school.
Top of the Rocks - Peak Edge Times Tables Rock Stars Competition
Teachers within the Peak Edge Academy have organised a Peak Edge academy TTRS tournament, which will run for a week from tomorrow (11th May to 18th May).
Children will not have to do anything differently. They should continue to use any game type they would usually play. If your child hasn't used TTRS during lockdown, this would be the perfect time to get them to access this resource assuming you have the technology available. The attached poster gives a brief outline of the competition.
Good luck.
Safer Internet Day 2020
07 February 2020 Update - Coronavirus from DfE
Spelling Bee Competition
We are pleased to announce the launch of the 2020 Spelling Bee competition! This week every child in Y1 to Y6 will bring home a list of 100 spellings. They will have 3 weeks to learn these spellings before being tested. There will be medals for the children in Y1 and Y2 who can spell the most words. The top spellers in Y3 to Y6 will progress through to the semi final and final! Happy spelling!
Please click below to see the lists of words to learn here!
Christmas Book Advent Calendar
There are two book prizes available every day for the next 2 weeks as part of our Christmas Advent calendar. Mrs Adams will ask a question related to books every day in assembly and children can post their answers in the plastic wallets outside her office. Children - please make sure you write your name as well as the answer before you post your piece of paper.
Home Learning Celebration Assembly
On Thursday we had our half termly home learning celebration assembly. We shared all our fantastic work with each other. This included art, model making, posters, powerpoint presentations and scrapbooks. Thanks parents and carers for helping us extend our learning at home.
Place Value Maths Coffee Morning
We welcomed parents, carers and Governors to our coffee morning on Friday 11th October. Children from Y1 to Y6 demonstrated how they had learned about place value to parents.
Harvest Festival
Thank you to everyone who attended our Harvest Festival.
Harvest Festival
On Thursday we went to St Nicholas Church in High Bradfield.
We celebrated harvest by singing songs and talking about our thoughts on harvest. We had lots of fun sharing all our harvest knowledge with you all!
Thank you for your generosity in donating food.
Mrs Watts will be taking this to Burngreave food bank.
Guide Dog Assembly
On Thursday we were very lucky to have Mel Smart (one of our Governors) come into school to talk to us about Guide Dogs. She brought with her a Guide Dog puppy which she is currently training. She delivered a presentation to show the children the different stages in the puppy's training to becoming a Guide Dog. Thank you to Mel and her pup for coming into school!
Sports Day 2019
Golden Lunch Winners
Sheffield City Athletics
Thank you to all the children and parents of children who took part in the Sheffield City Athletics at Woodburn Road on Thursday 23rd May. The children did a fantastic job of representing the school and were cheered on by fantastic supportive parents too. We even managed to have some children qualify for the final in certain events; Daniel in the Y5 600m, Fran in the Y5 long jump, Jack in the Y5 walk, McKenzie in the Y6 throw and Harry in the Y6 800m. Good luck to those finalists competing on Thursday 20th June 2019.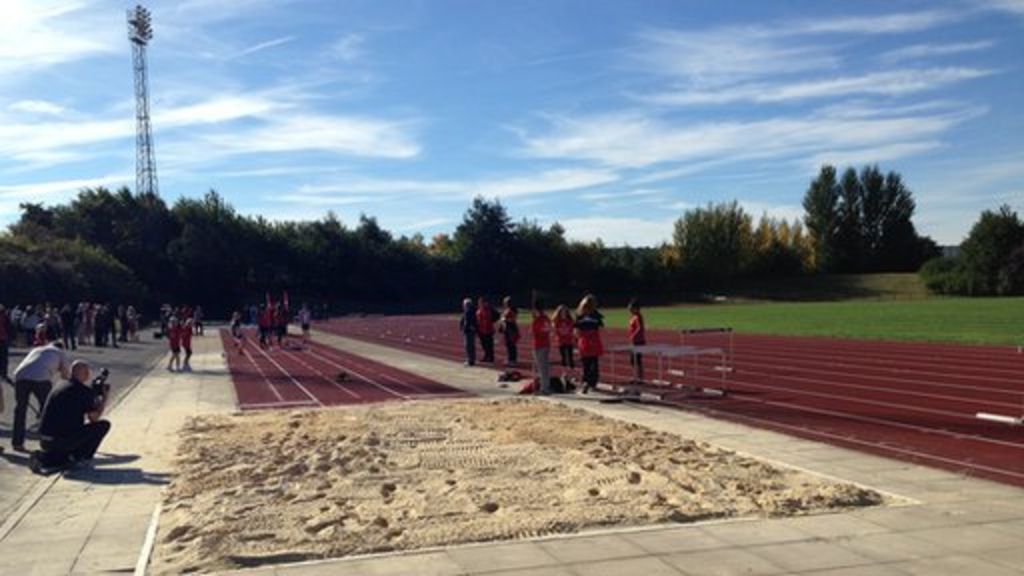 Academy Conversion
Bradfield Dungworth converted to be an academy on May 1st 2019. We are pleased that we have become a founder member of the Peak Edge Trust, which comprises of 6 local primary, infant and junior schools in the local area. This further strengthens the relationship between the 6 schools which all feed into Bradfield Secondary School and can only lead to further improvements in teaching and learning for all 6 schools as we work together to deliver cutting edge innovations in the curriculum.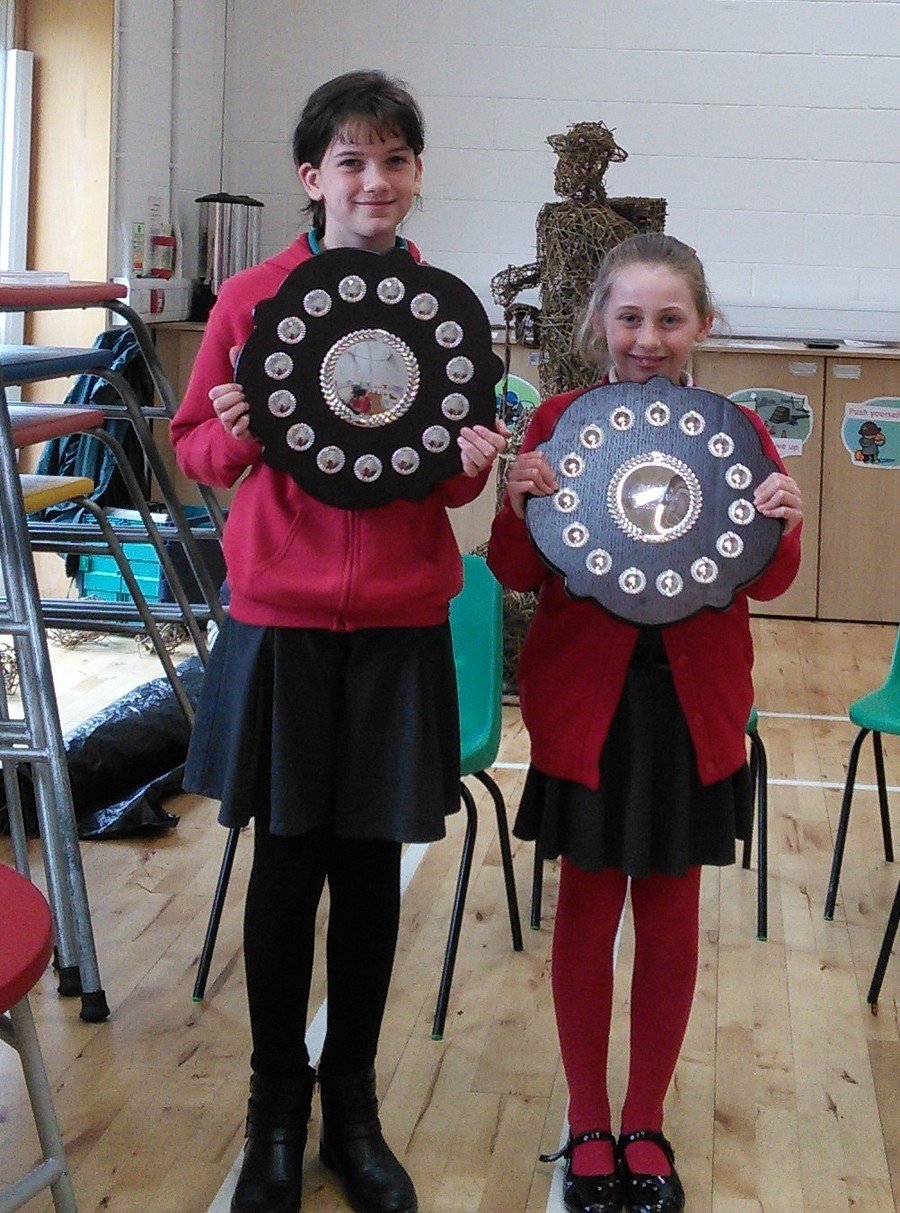 Willow Weaving
Pupils in year three, four and five at Bradfield Dungworth Primary School have created two life size sculptures of World War Two veterans as part of a far reaching community history project to learn more about the area's involvement in the 1939 to 1945 period.
Read all about it in the online article by clicking the picture below.
Gardening
Rainbow class made the most of the lovely weather and went out into the playground to do some gardening. We sorted the planters in the reception area and even got a chance to plant some lovely flowers! Thank you to Langlands Garden Centre for kindly donating the plants to school.
14/5/19
Parent Questionnaire
Thanks to everyone who completed our parent questionnaire. We welcome feedback from all members of our school community. The picture below shows the key words that parents and carers used when identifying what our school does really well. We have also responded to your comments identifying things that we could do develop . This is really helpful for us in our continuing drive to develop our school.
The document below presents the information we collected and shows how parent/carers feel about our school.
WW2 Willow Sculpture
Y3,4 and 5 pupils had a great time in school last week working on sculptures of World War 2 soldiers thanks to a grant from the Lottery to Dungworth heritage group. The Y5 children had worked with Caroline Gregson, artist, to design the positions of the figures in January. She returned in April to work with Y3,4 and 5 to build the sculptures. Check out her website here.
Romeo and Juliet
The play, about two star-crossed lovers, was performed by the Manchester Actors Company for KS2 on Tuesday 12th March 2019. We really enjoyed the performance and we're grateful that the actors came to see us.
Ralph the Reindeer
Willow Class told everyone the story of Ralph the Reindeer who came to Father Christmas's rescue one Christmas when Rudolph had a very bad cold and couldn't fly the sleigh to deliver all the presents! They learnt lots of songs and dances and made everybody smile!
The Tiptoe Nativity
Rainbow Class loved learning about the story of Christmas. They performed their nativity play in the hall to lots of parents. They had really big voices and some great dance moves!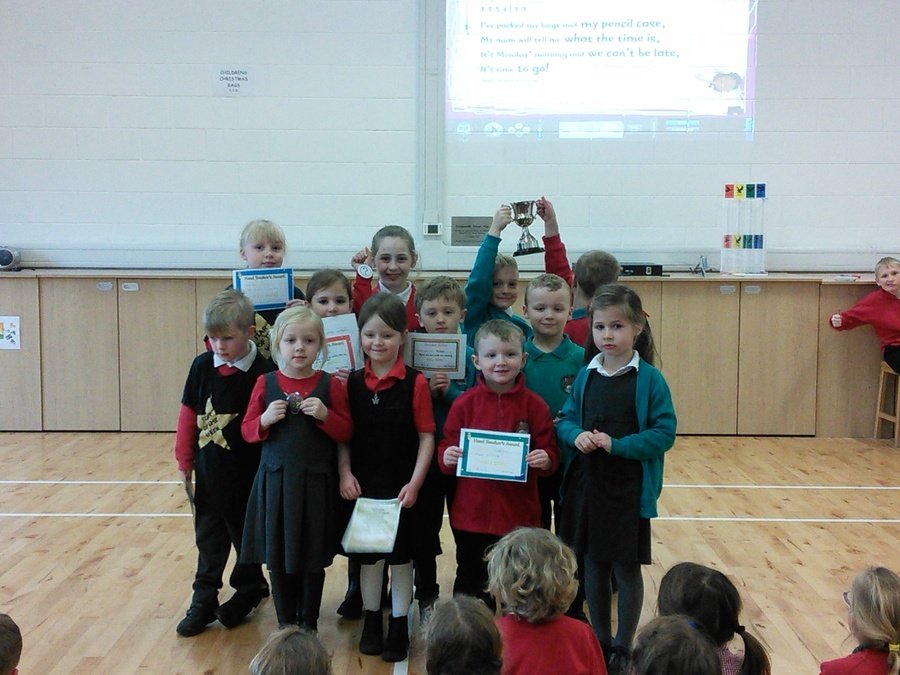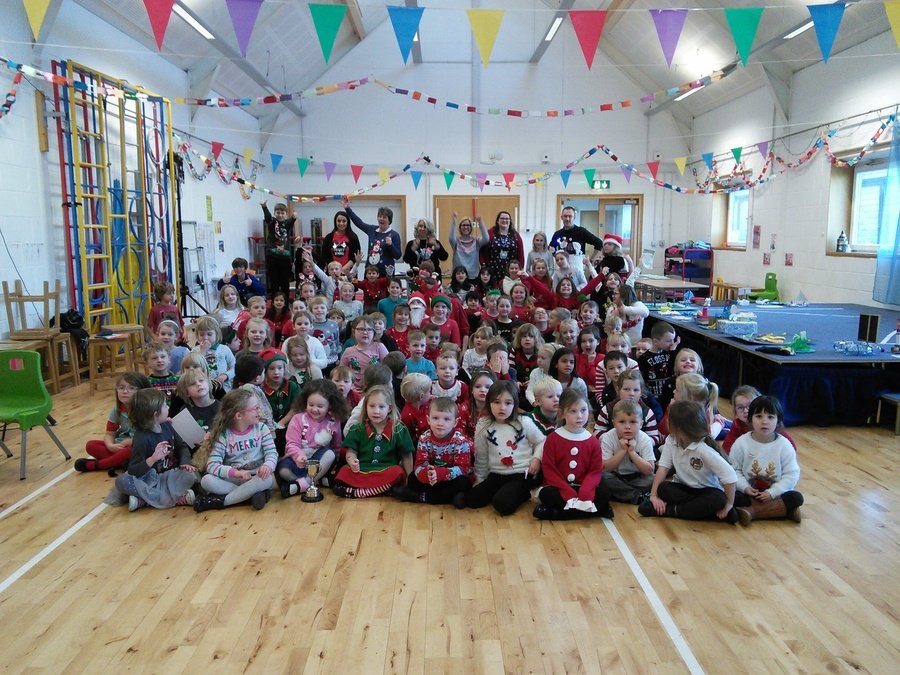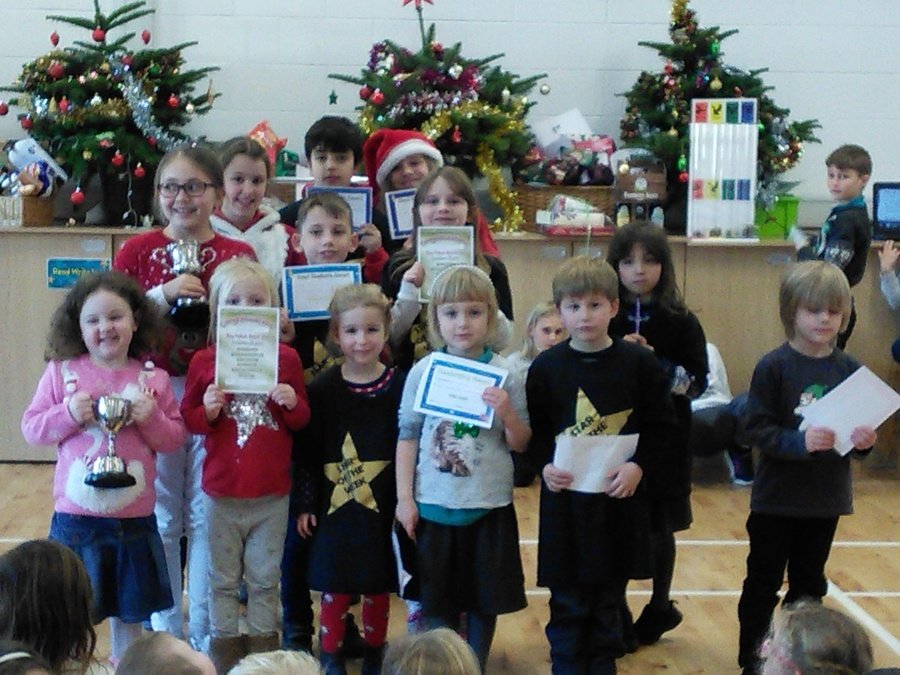 Christmas Book Advent Calendar
Every day for the next three weeks, children will have a chance to win a book as part of out book advent calendar competition. Children, if you can answer the quiz question posed in assembly, put your answer and full name on a piece of paper, fold it up and put in the envelope on the display outside the headteacher's office. A Y1,2, 3 winner and a Y4,5,6 winner will be drawn out every day and they will win a book prize.
Try out some different book quizzes here. How many books have you read? What book could you choose to read next?
https://www.booktrust.org.uk/books-and-reading/have-some-fun/quizzes/
Spelling Supermarket
This morning Parents and Governors were invited to a 'Spelling Supermarket.' Children from all three classes showed them strategies to show them how they are learning their spellings and embedding them into their long term memories. Please check out the powerpoint and slideshow below. We all had a great time.
Planting a Tree at Dungworth Park to commemorate the end of World War 1
Acorn class attended a ceremony at Dungworth Park on November 14th to commemorate the 100th year anniversary of the end of World War 1. They read out names of those people in Bradfield parish who had lost their lives. The school has received a letter from the British Legion congratulating them on their behaviour and clarity of reading.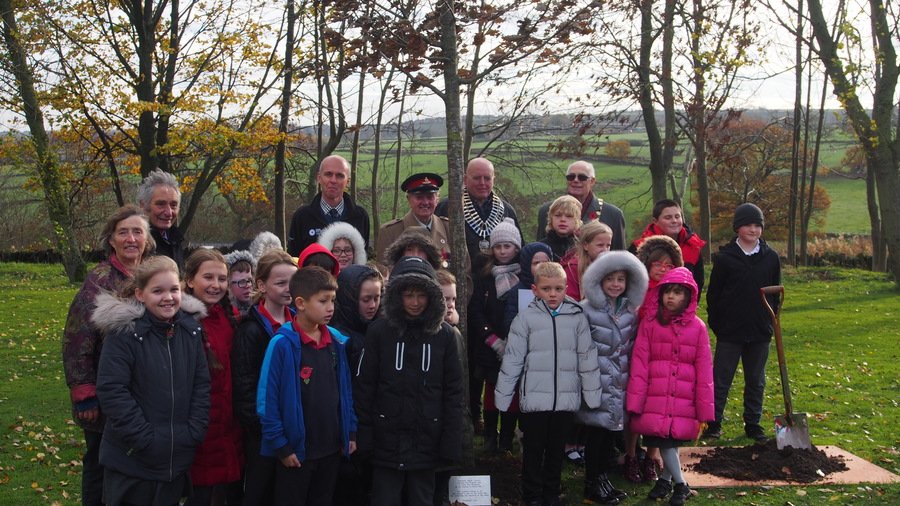 Extreme Reading Challenge
We love reading at Bradfield Dungworth! We have been reading in lots of extreme places over the last few weeks - up trees, on roofs, by the sea and in a Greek amphitheatre. Can you spot any teachers amongst these photographs?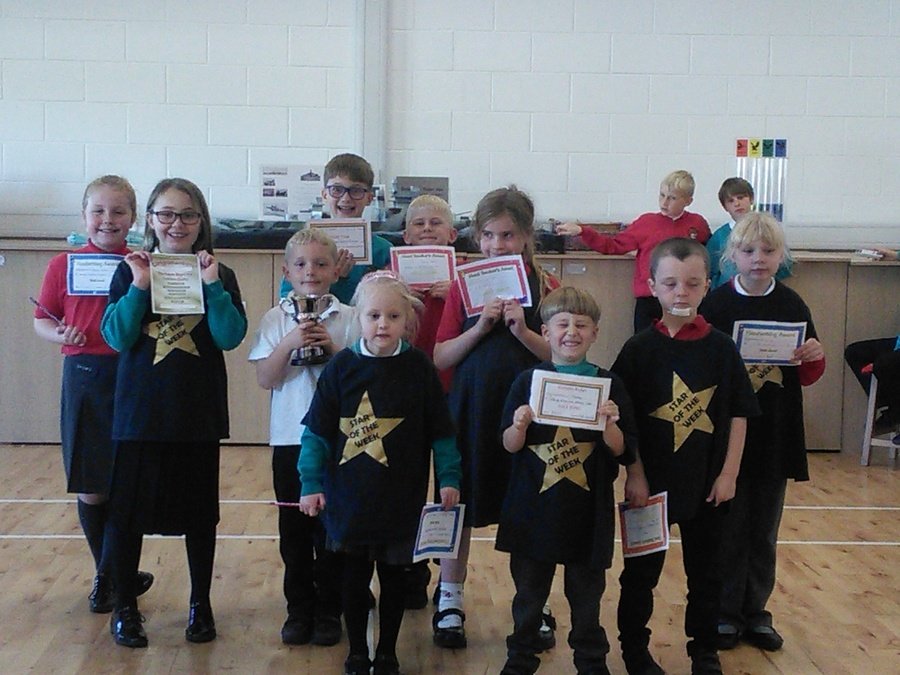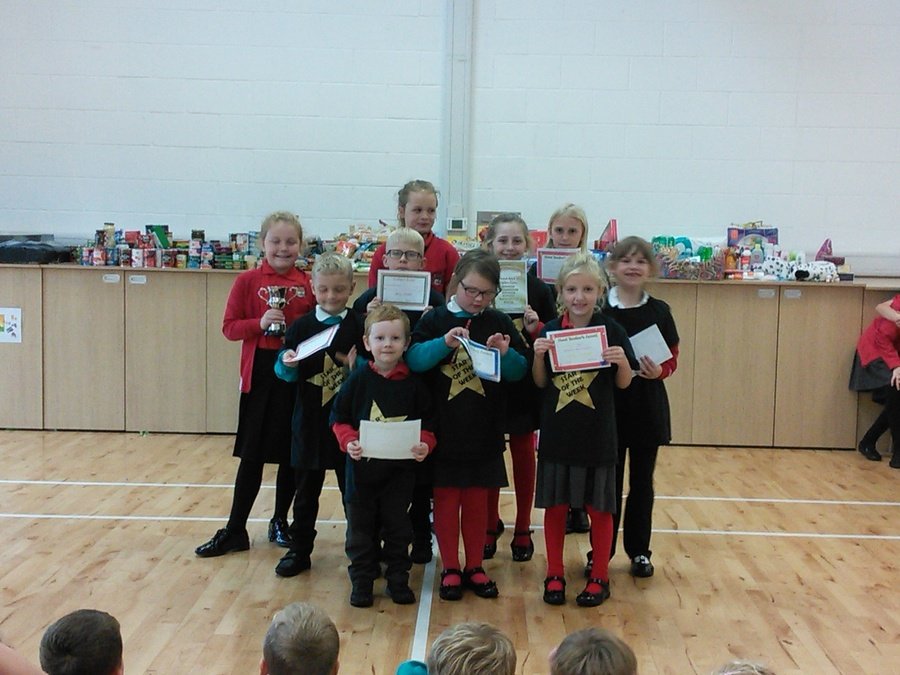 The Lost Words

Last weekend we had the HUGE honour of being one of the first schools to be presented with a crowd-funded copy of The Lost Words, a book by the author Robert MacFarlane and illustrator Jackie Morris.
The book - a spell book of acrostic poems - was written in response to the news that the Oxford English Junior Dictionary would be removing many words to include more recent additions to our language, such as 'broadband'. All of the words that were removed were linked to nature; words such as conker, bramble, otter and magpie. One school worker in Scotland was so dismayed that she decided to raise funds to order a copy of the book for every school in Scotland. Other parts of the country followed suit with 'Vernon Oak' as our benefactor for Sheffield.
The Sheffield Tree Festival was a celebration of the natural world, raising awareness for the plight of trees in Sheffield and beyond, and showcasing a poem written by Robert MacFarlane especially for Sheffield - Heartwood. Look out for the poem on posters across the city!
We received the first copy of the crowdfunded book on behalf of the West of the city. Miss Cooper accompanied Mrs Higgins and we were delighted to meet the author himself, our Lord Mayor Magid Magid, as well as join in with the many activities.
Sports Day June 2018
We had a very successful Sports day again this year. Every single child gave 100% and were cheered by their friends and parents whether they came first or last. Thanks to Madeon's dad for the fantastic pictures