Star of the week
Well done to these children who received certificates at "Golden Assembly" on Friday!
#
Guide Dog Assembly
On Thursday we were very lucky to have Mel Smart (one of our Governors) come into school to talk to us about Guide Dogs. She brought with her a Guide Dog puppy which she is currently training. She delivered a presentation to show the children the different stages in the puppy's training to becoming a Guide Dog. Thank you to Mel and her pup for coming into school!
Star of the week
Well done to these children who received certificates at "Golden Assembly" on Friday!
Colour Mixing
We had lots of fun exploring what happens when we mix different colours. We used black and white to explore making colours darker or lighter.
Playground games
This week we have been playing games our Grandparents would have played when they were in school. We had lots of fun in the playground. We played hopscotch, marbles, skittles and did some skipping.
Schools through time
On Friday we had some special visitors come into Rainbow and Willow class. Mr and Mrs Martin showed the class photos of when they were at school and talked all about the things they learnt and got up to at school. We got a chance to ask questions and even play some of the games they played when they were at school.
Star of the week
Well done to this child who received a certificate at "Golden Assembly" on Friday!
Butterflies
Yesterday we were very lucky in Rainbow class. Some children brought in some butterflies that they had watched grow from caterpillars into butterflies. We all got a chance to hold a butterfly before we set them free in our playground.
Stars of the Week
Well done to these children who received certificates at "Golden Assembly" on Friday!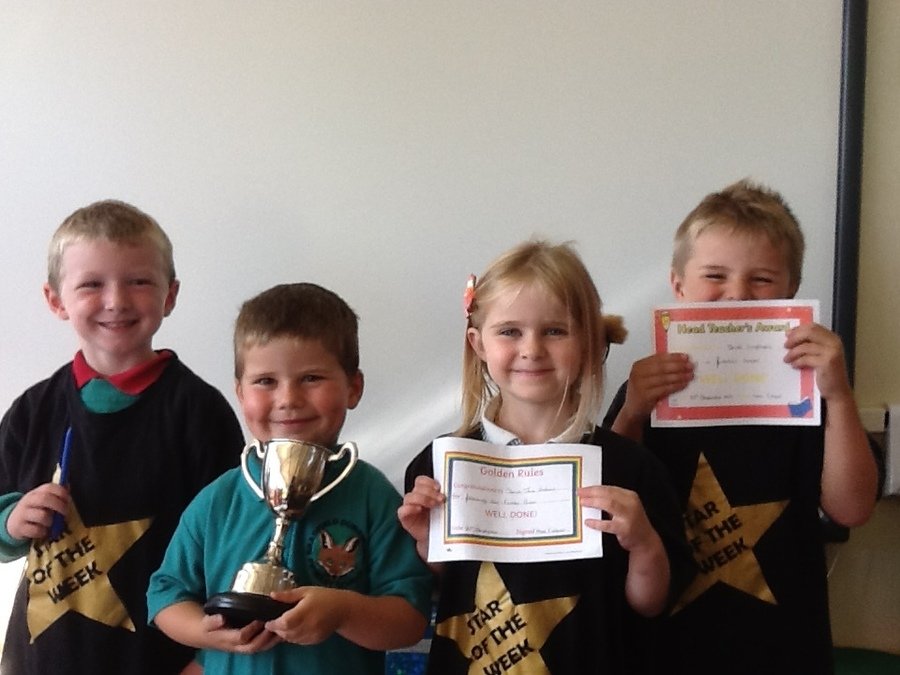 20/9/19
Bikes!
We had lots of fun playing in the yard on the school bikes this week.
Key documents for this term
Please see the list of key documents below. You will have also received a paper copy of these in your welcome pack.
Home Readers and Learning Folder
This week, everyone will have a Home School Learning log and a Home Reader. Please bring these to school daily. We will endeavour to read with your child every day and will change this book if necessary. Some books require the adult to read sections and for your child to join in with the speech bubbles. Encourage your child to look at the pictures and sound out letters they know in words such as 'man' to read aloud. Question your child on the characters, setting and story. Please record daily reading in the home/school log. Your child can earn certificates and prizes for reading at home.
The Learning Folder will be updated when we learn a new sound and what it looks like. It will also include a small letter card (add this to your word tin). Please keep this folder in your book bag every day. Practise sounding out these letters using 'pure sounds'. A reminder can be found here: how to say the sounds . Your child should be able to see the letter and instantly know what sound it makes.
The yellow letters in the Learning Folder can be traced over with fingers and then pencil to understand how to form the letter. We hold a pencil in a tripod grip and sit at a table. Every letter starts on the line where we "smile in" to the letter before we "smile out" at the end. Underneath the letters is plenty of space for your child to practise on their own. If your child is finding this hard (which is completely normal at this stage), practise on a larger scale; you could write in mud with a stick, using paint, shaving foam, in rice or sand. Bath crayons are great, as is chalk outside. Practise using an 'air' pencil (using your finger to draw it in the air) or use water and a paintbrush to draw them on the floor or wall. Children will master their handwriting when their muscles have developed on a larger scale before it will transfer to the small, fine motor skills required for handwriting. Practising a 'swishing' movement (e.g. with a magic wand, stick or ribbon stick) will support muscle development for mastering the 'lead in' to each letter we write. However, do not feel that they must be completed daily!
Please do not keep water bottles in book bags. There is a charge for lost or damaged books.
17/9/19