Sport Relief 2018
Thank you to everyone who donated to Sport Relief!
This year we dressed up, completed sporting challenges, and sponged our teachers! Thank you also to the children who organised activities for us to join in with.
Stars of the Week in June
Goodbye to Mr Vickers
We had a special assembly this week to say goodbye to Mr Vickers, our much loved Building Supervisor. The children sang him goodbye, the teachers told stories about his escapades over the years and we wished him well for his future. He's promised to come back and see us as he'll always be part of the Bradfield family.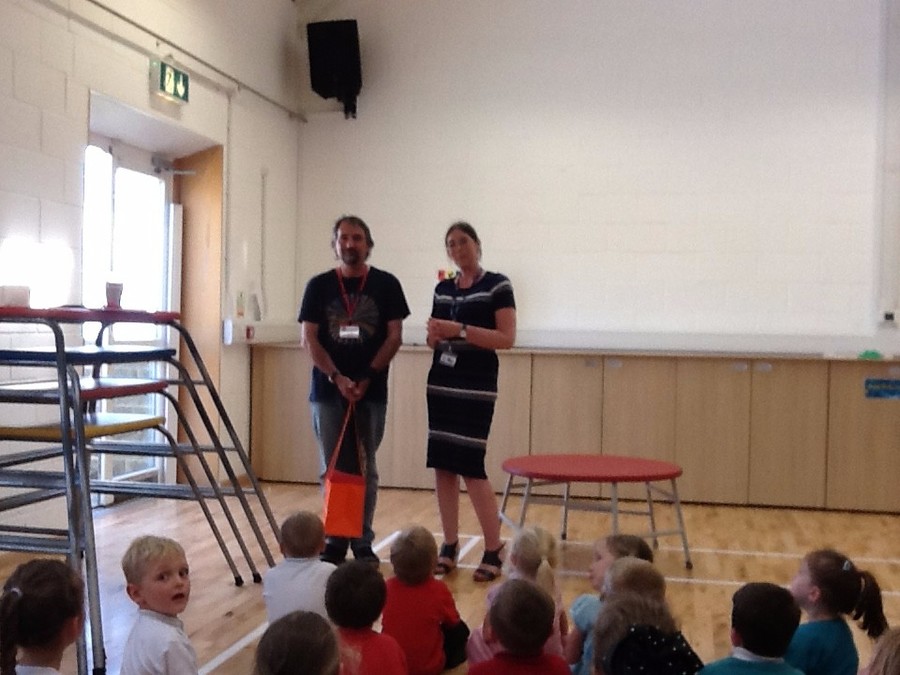 March 3rd Stars of the Week
Well Done to this weeks winners. We also awarded our new courtesy cup trophies which were kindly donated by the family of Lucy Harper, who worked here as a Mid day supervisor in times gone by!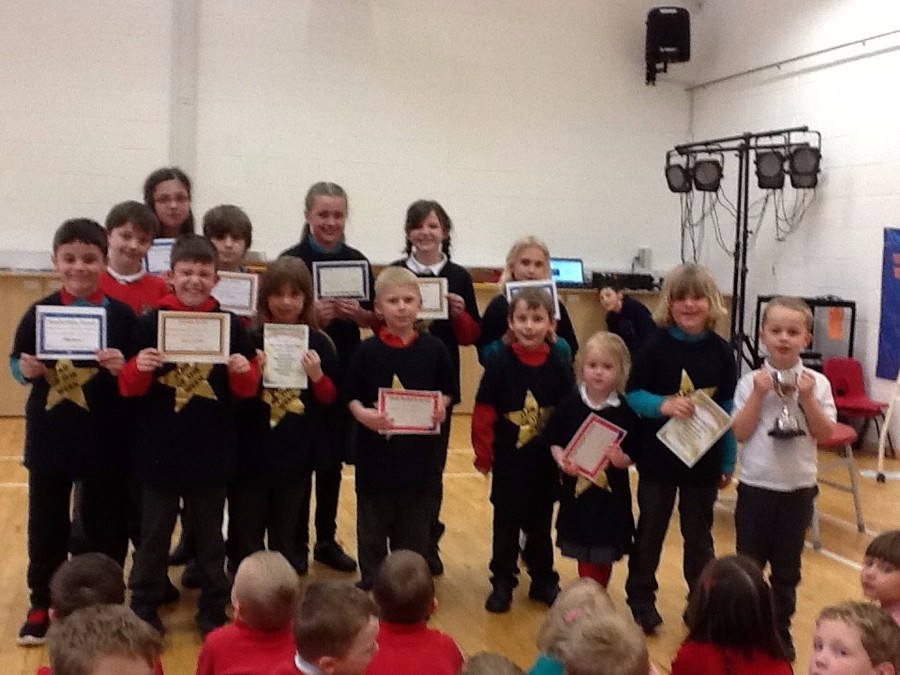 New Star of The Week T Shirts
Thanks to the 'Car Specialists' we have some brand new Tshirts in school which our Learner of the week, Keeper of the Golden Rules and Handwriter of the week will be wearing. Here are last week's winners!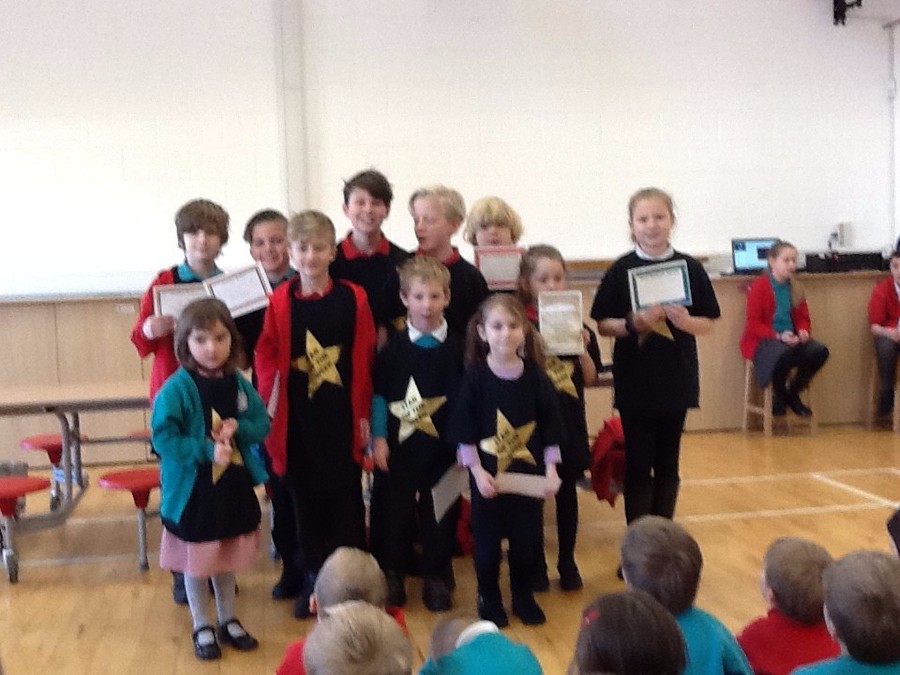 Children In Need Dress up Day!
We all came to school in our pyjamas. onsies and dressing gowns and raised £125 for Children In need. Thanks everyone for your kind donations.
Golden Lunch winners in November
We tried something new or were kind and helpful
These children have excelled this week and shown they have what it takes to be successful this year. Nate showed empathy to a new boy, Daniel was a great role model for the new Y2s, Alfie came to school early every day this week and William, Lewis, Fran and Serena have done some fantastic handwriting. Well Done everybody!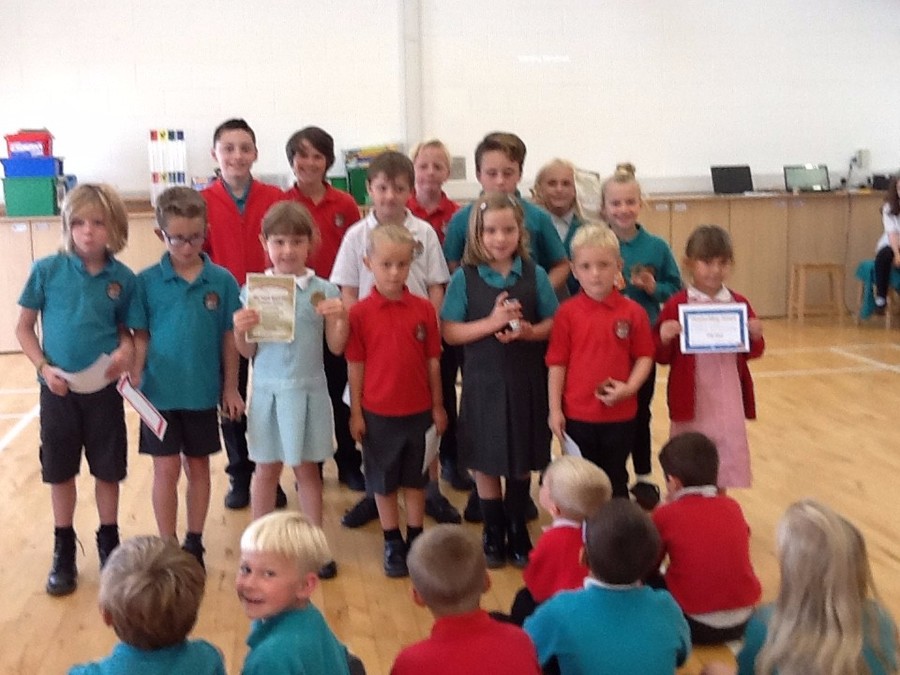 Homework Heroes!
We had a fantastic celebration assembly on Friday when children shared their exciting and creative homework projects with the rest of the school. There were some great projects and we all enjoyed tasting the great variety of food that people had been busy baking!
Queen's 90th Birthday Street Party
We all dressed in red, white and blue to celebrate the queen's birthday with a street party. Mrs Fryatt and Mrs Gray, our cooks, made some wonderful party food and we all ate outside. The playground was decorated with flags and bunting and at the end we all sang Happy Birthday before we ate our royal buns!
Super Sports Stars!
Well Done to this talented trio! One has been chosen to compete for South Yorkshire under 9s as a wicket keeper. One has been chosen for the Royal Ballet and one has perfected a dive that no girl of her age has ever done before. We are very proud of them.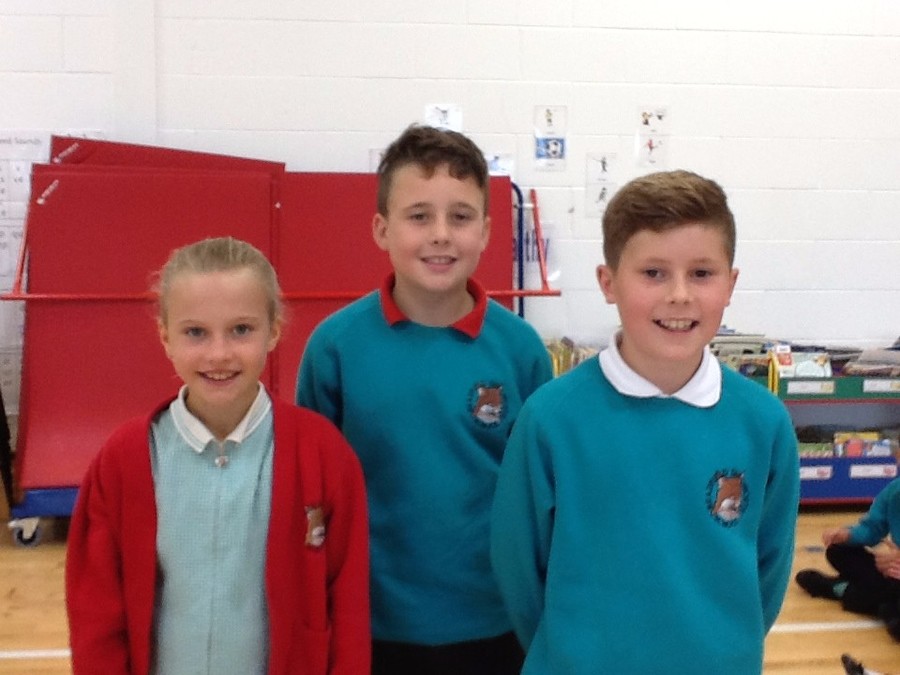 Well Done to the winners of our trophies this week. Golden Lunch with Mrs Adams here we come.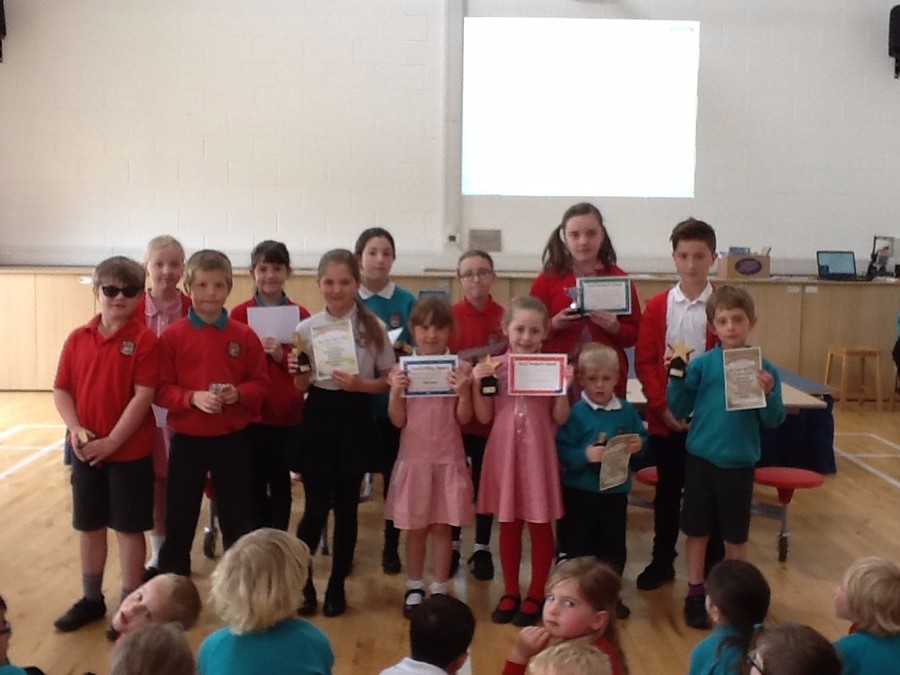 Golden lunch winners - April 22nd 2016. Our learners of the week all worked hard and gave 100%. Our Keepers of the Golden Rules were really good at looking after property this week. Well Done!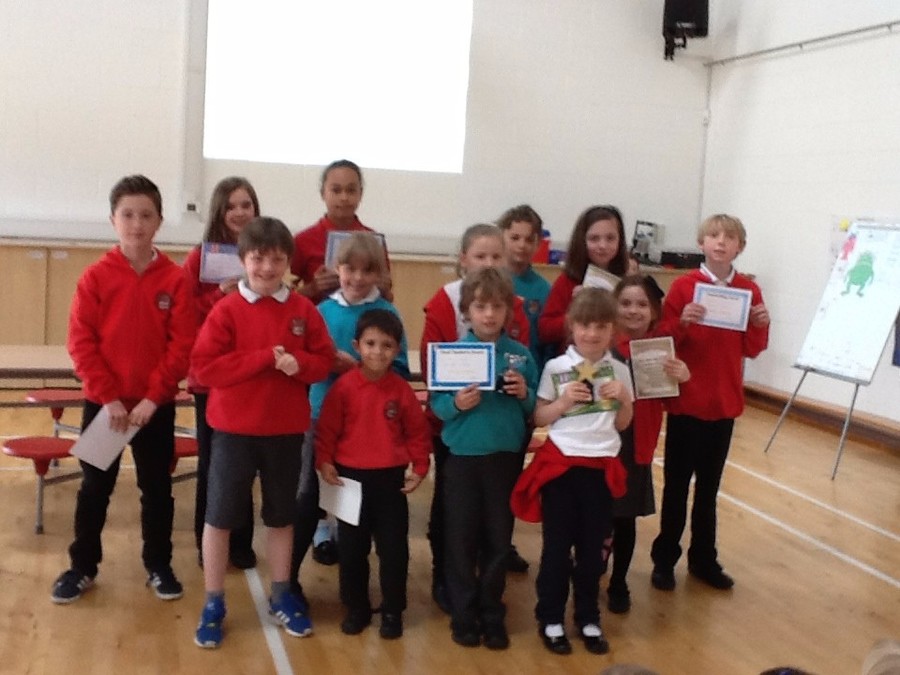 We had a fantastic last day at school before the Easter holidays. There were some amazing egg decoration creations and we also had a fun time rolling eggs.
Have a look at our photos. See if you can spot anyone you know!
Y5/6 City Athletics
The Y5/6 athletics team competed superbly yesterday against 7 other school teams. Lewis, Maisie and Joe all qualified for the city finals. Well done to everybody for great sportsmanship and for supporting each other.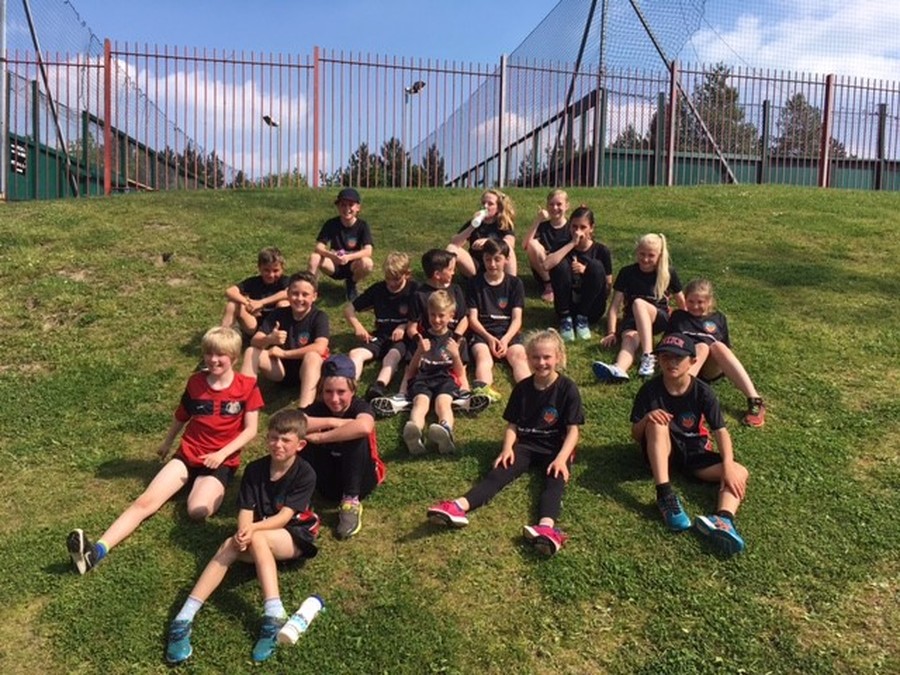 Our Y5/6 Athletics Team
Well Done to the Y5/6 Athletics team who competed at Bradfield Secondary School. We didn't have a full team so everyone had to compete in every race with no rests! Mrs Hague was very proud of their behaviour, effort and team spirit.Thanks for representing the school so well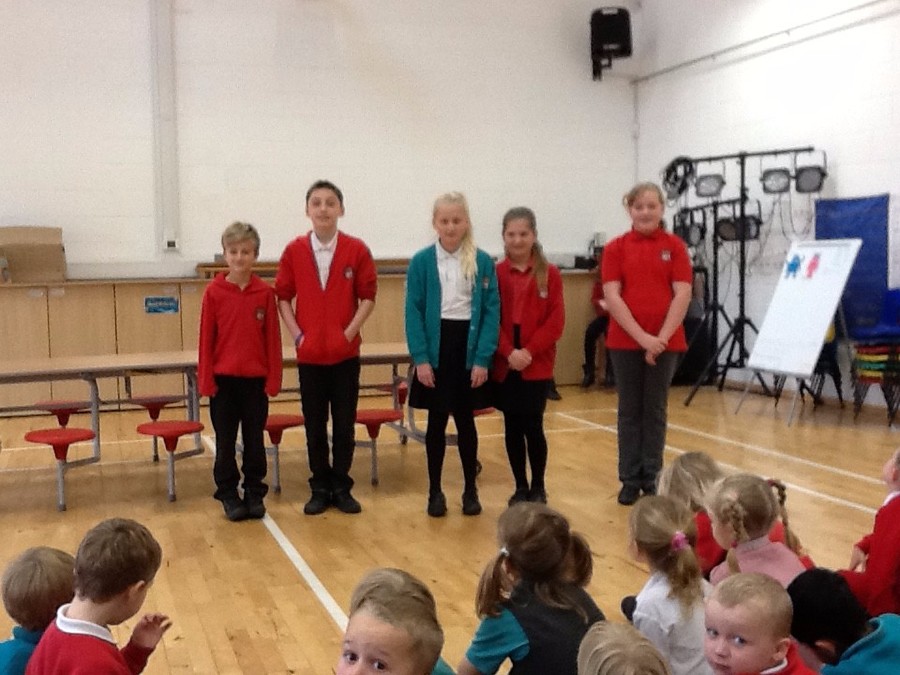 Golden Lunch Winners in June
Well Done to our Handwriters, Keepers of the Golden rules and Learners of the week.
Enterprise Winners
We have some business women of the future here at Bradfield Dungworth School. These pupils are the winners of our Enterprise Challenge. The Licketts team made the biggest profit with their delicious home made lollies and Alex and Amelie won the prize for the best pitch and product with their carefully costed and decorated door plaques. Thanks to the PFA for organising and donating the £5 Meadowhall voucher prizes.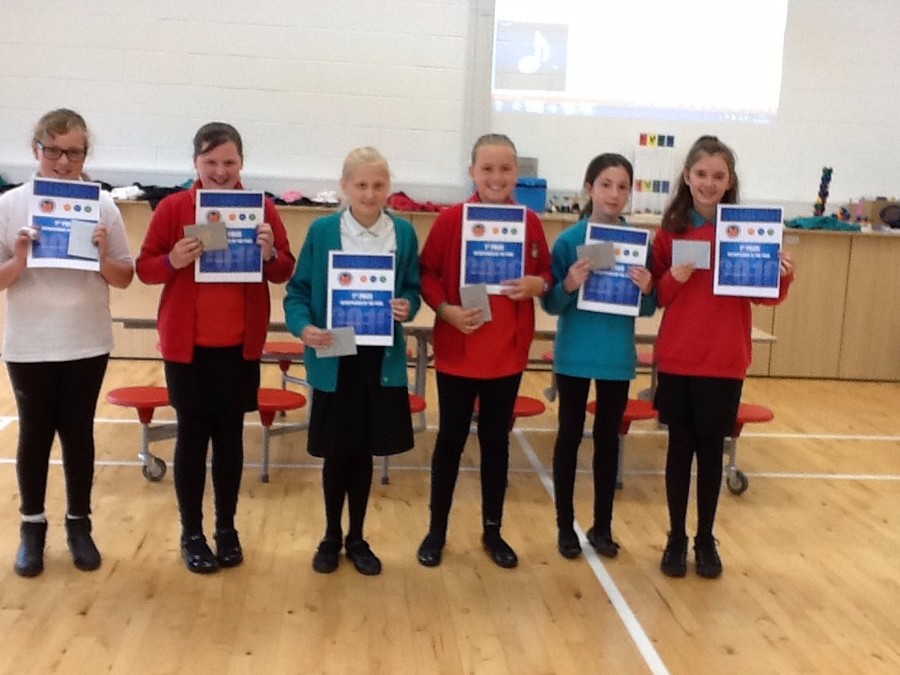 Sports Relief 2016
Thanks to everyone who donated money for Sports Relief. We raised £140. Everyone dressed up in sports gear. We had great fun at lunchtime taking part in Sporting Challenges.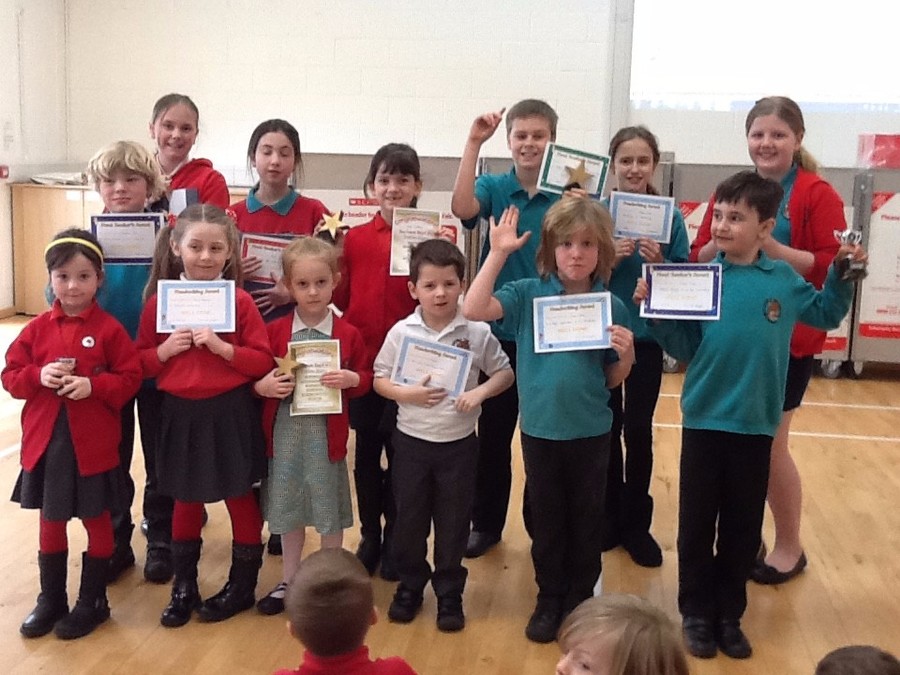 Golden Lunch winners - March 11th 2016