SPRING INTO SUMMER
Welcome back to our garden news page! Are your tomato plants growing well? How tall are your beans growing, Rainbow class? There's a lot happening at this time of year, as nature wakes up from its chilly winter bed and begins to grow again. We hope for sunshine and showers.
Since the beginning of April, it has been good to see tulips and grape hyacinths blooming in a corner of the playground by the top steps, where we planted bulbs last Autumn. As their flowers fade, others will take their place, so there will always be something interesting in this new focus corner - more about that later.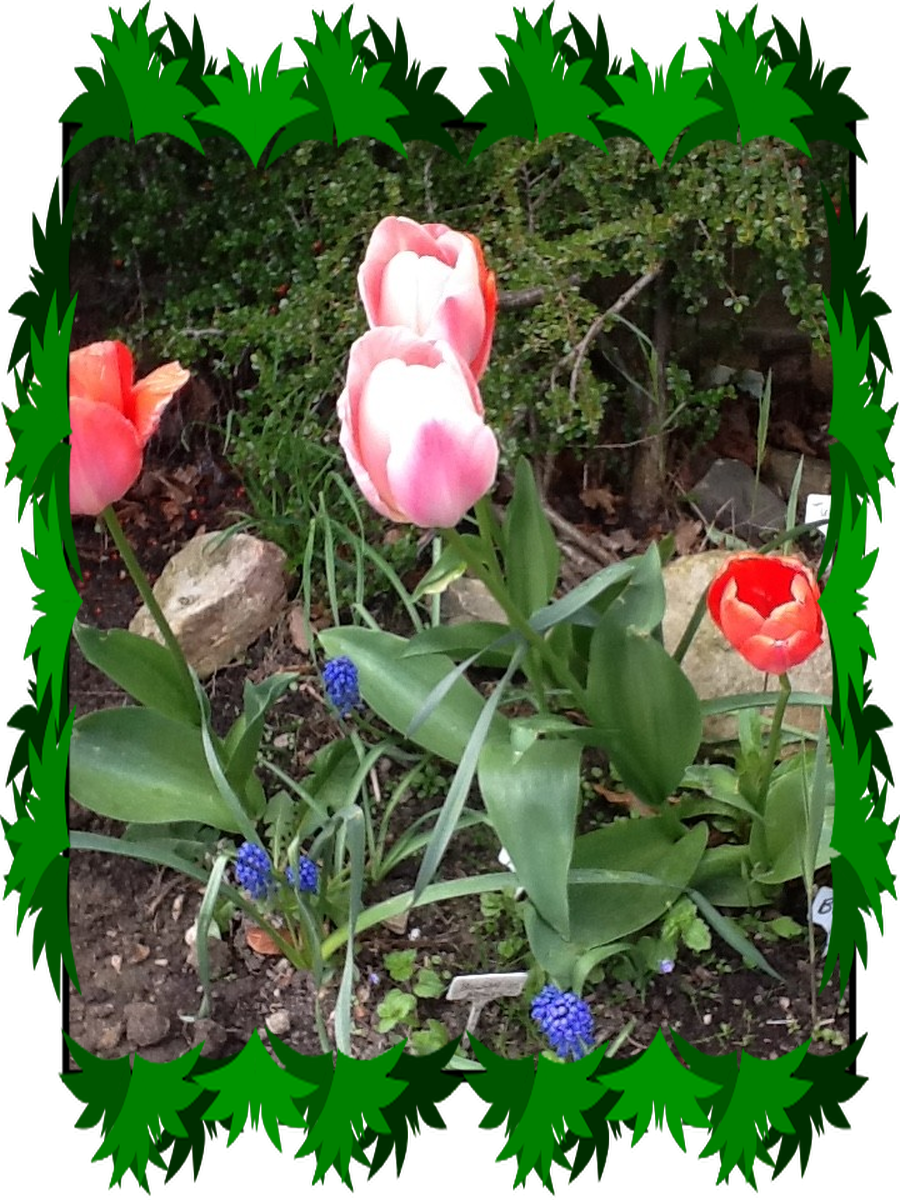 We were lucky enough to be visited by Vanessa from Grow Sheffield in March. She brought us five locally grown varieties of young apple trees! Our very own mini orchard was planted along the hedge bordering the playground by Vanessa and Rainbow class. We learnt a lot about tree care: how to plant, stake, protect, look after and use them. We look forward to watching them grow and wish for some lovely apples next year! Thanks Vanessa, for helping Rainbow class to pot their bean seedlings too!
Following the success of the Big Schools Birdwatch, we love learning about wild plant and animal life alongside gardening, and it is so much fun with the RSPB Wild Challenge.There are loads of activities we can do to experience and help nature, and our Golden Time Nature Group is earning awards too! To find out more, go to our school's dedicated Wild Challenge page.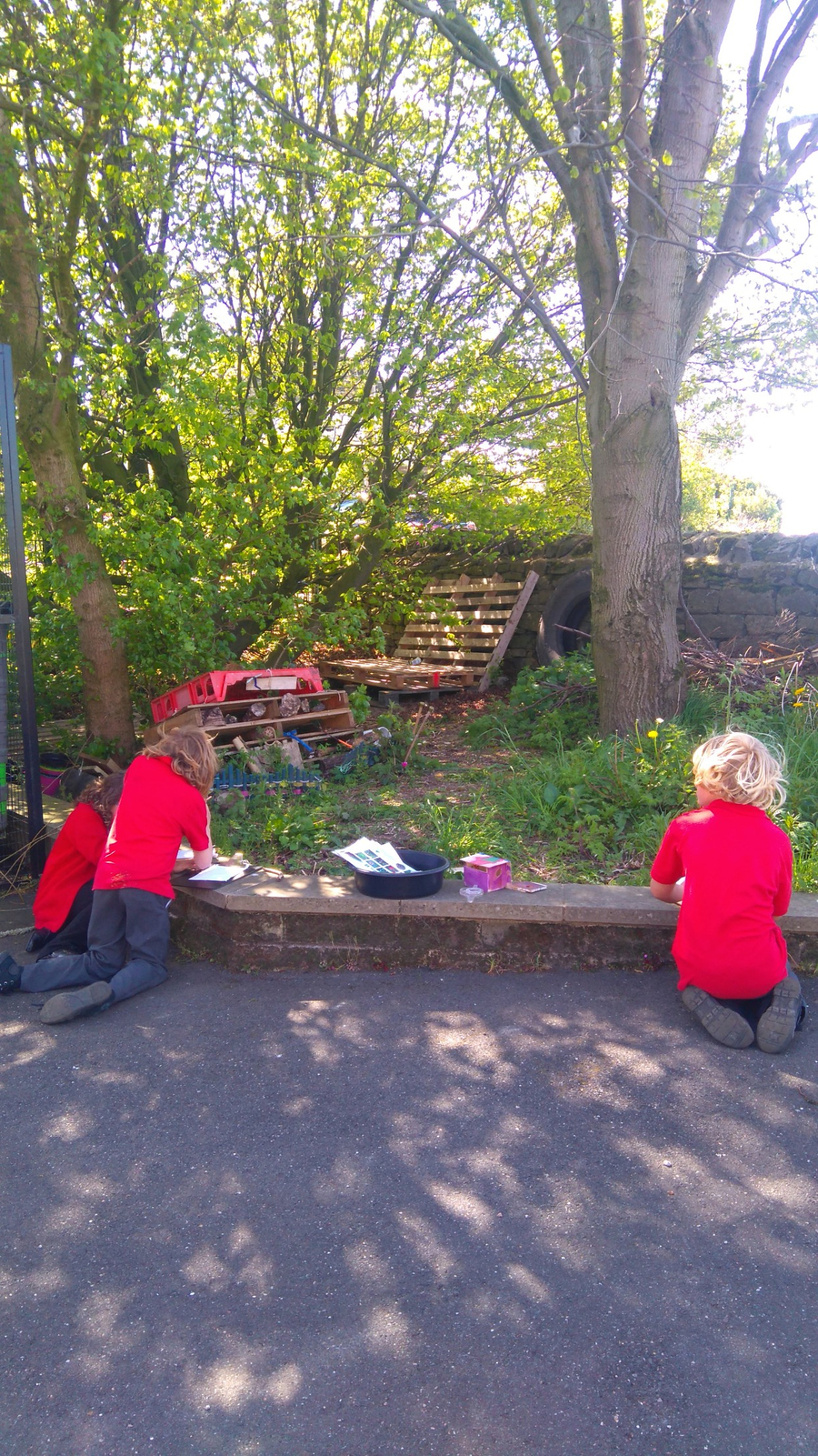 Meanwhile, lots of new things are happening in our school garden. This year the emphasis is on growing pollen and nectar rich plants that attract a variety of pollinating insects - such as bees, butterflies and hoverflies. As well as being fun to watch, these types of insects - especially bees - need our help! Through growing pollinator plants we will be learning all about these special friends who do much more than help to provide us with honey!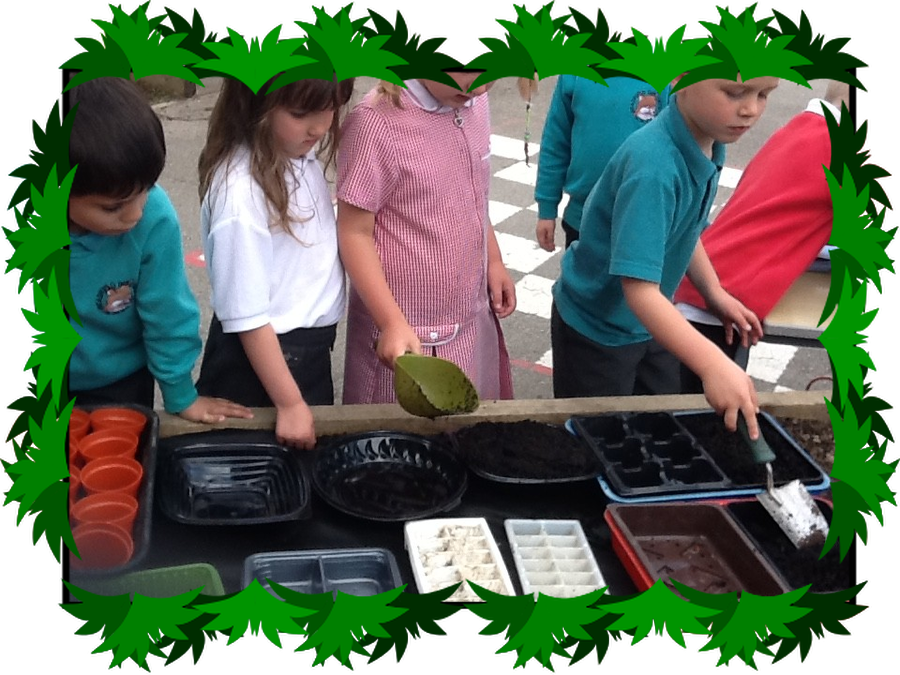 At the same time, planting by colour will help guide the insects to the flowers AND help us to get arty in the garden!
The development of our new Artynest outdoor creative study base is nearing completion. With thanks to part-funding from the PFA and Captain Planet Foundation grant by association with It's Our World, the Artynest will provide an outdoor activity space for budding young artists, crafters, nature lovers and small groups. This school development could not have been possible without the dedication of staff, parents, governors and of course the children of our school - many of whom have donated time or materials to the cause! Thank you! Check back soon to follow the launch of the Artynest and the Artygarden and remember to
Stay Green and Bee Friendly!
Artynest Development - with willow delivery
GOLDEN TIME GROUP and the RSPB BIG SCHOOL BIRDWATCH 2017
Welcome back after the Christmas holidays. Officially, it's the start of the Spring Term at school, although it is still very much Winter in January.
Here are some photos from the end of last term, when we planted Spring flowering bulbs in a forgotten corner of the playground. We can already see a spike of green growing! Here one of us is helping do some work on the wildlife area, creating a pallet seating area which doubles as a leaf collector and animal shelter.
Our school is taking part in the RSPB Big School Birdwatch, where we count and record all the birds we can see in the school grounds in one hour. This helps the RSPB (Royal Society for the Protection of Birds) keep a track of the numbers and species of wild birds we have in Britain, by collecting the data from schools and other people with gardens too. If you want to take part at home, you can register with the Big Garden Birdwatch on the RSPB website.
To get ready for this, today we made some pine cone bird feeders, by rolling pine cones in a fat and seed mixture. Then we hung them out in the wildlife area.
Wild About Bugs and Birds!
The bug hotel is starting to take shape in its permanent place under the trees in the wildlife area. It will soon be complete with its colourful signage. Watch this space!!
Our Golden Time activity task for the last two weeks has been to make decorations and bird feeders for the wildlife area, using only twigs, wire, wool and string. The challenge was for them to hold a delicious fatball to feed the birds in winter. Today we finished them off dressed in our pyjamas for Children In Need Day. Here are our results!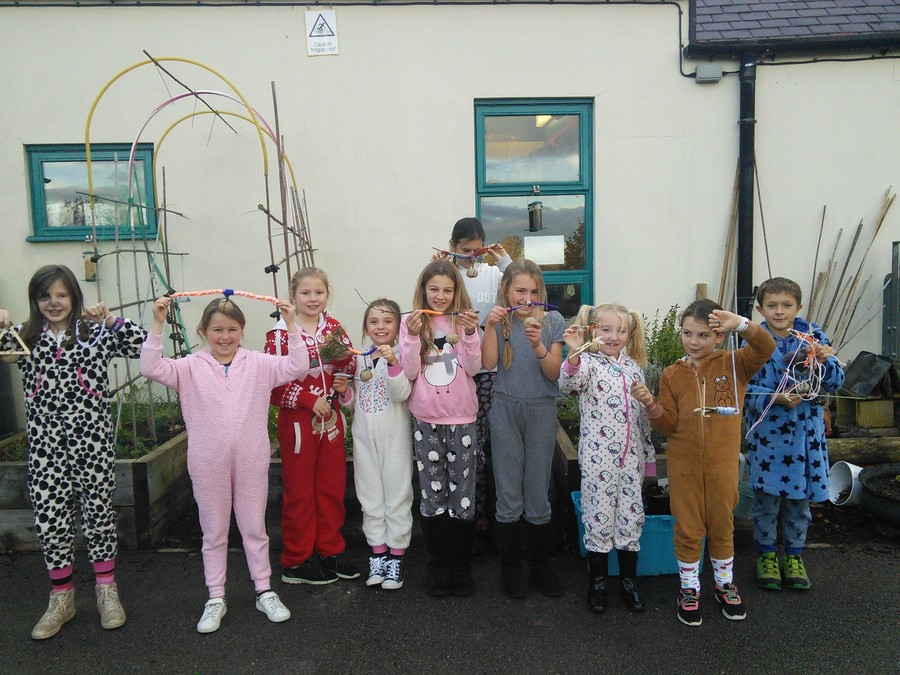 Building a Bug Hotel!
This week, we began construction of a bug hotel, to keep lots of our tiniest creatures snuggly and safe during the colder months ahead. We collected some junk that no one else wanted, like bits of old wood, logs, plant pots, cardboard tubes and box lids, together with garden canes, paper straws, grass and moss. We learnt how to use a hacksaw safely, so we could cut the junk into the right sized pieces to build sections of the hotel. Next week we will assemble them and make some cute signs!
In our second Golden Time harvest, we collected all the tomatoes - green or red - because the night time temperatures have started to cool down now we are well into September. We also picked the two tiny Cucamelon fruits that have grown outside on the bamboo cane arch. We tasted these - yum! - looks like a mini watermelon on the outside - tastes like a limey cucumber on the inside. We also sold some more purple Blauhilde beans, and St. George runner beans, at our harvest table at the end of school. We all enjoyed a good old tidy up too!
Today we had our first Golden Time Harvest activity! Well done to all who helped - and to those who donated funds in exchange for produce!!
SUMMER HOLIDAY PHOTO UPDATE!!! What can you see growing while you're on holiday?
Summer Term 2016
Wow! It's been a very busy time of year in the garden - a massive THANK YOU to all those who have helped this term - whether you have donated time, funds or gardening items you are all amazing. I hope you continue to enjoy and learn about the garden throughout the seasons. Stay green!
- Miss Hobson.
After a cold and slow start to the growing season, everything is growing like mad - flowering and fruiting and getting TALL!
There are strawberries, sugar snap peas, runner beans, and tomatoes growing on the cane arches. We are onto our third blackberry plant, as we lost the first two to the frost and wet. These are underplanted with french marigolds, lavender and nasturtiums - to help keep the bugs busy. The 'Grow Wild' wildflowers are blooming in pots hanging over the edge of the raised beds. Fragrant and edible herbs such as curry plant, giant chives, mint and marjoram add to the mix.
In June, we harvested our First Early New Potatoes! We were so excited to empty out the sacks and dive down to search for the potato treasure. The chitted potatoes were definitely bigger. We handed them over to our school cook, Mrs Fryatt, who turned them into delicious potato salad for lunch. She also made scrumptious rhubarb and apple crumble with our home-grown rhubarb. We tasted radish, rocket and spinach salad with a simple dressing of olive oil and lemon juice.
GALLOPING GARLIC!!! Today we harvested the garlic that we planted last November. It's giant and smells very strong!!!
In May, we planted out the sunflowers that Reception children sowed earlier this Spring. We later used old potato sacks from a local farm and filled them with compost to make big tubs. The sunflowers make a perfect partner to the bee-loving borage plants.
In March we built a second cane arch to support our vertical plants. We prepared the soil for sowing new seeds, and planted a thornless blackberry to give us fruit in the Autumn term. We sowed early seed potatoes in big sacks. In a few weeks we will sow the ones that are chitting (sprouting) indoors on the windowsill, and see which ones produce the best spuds.